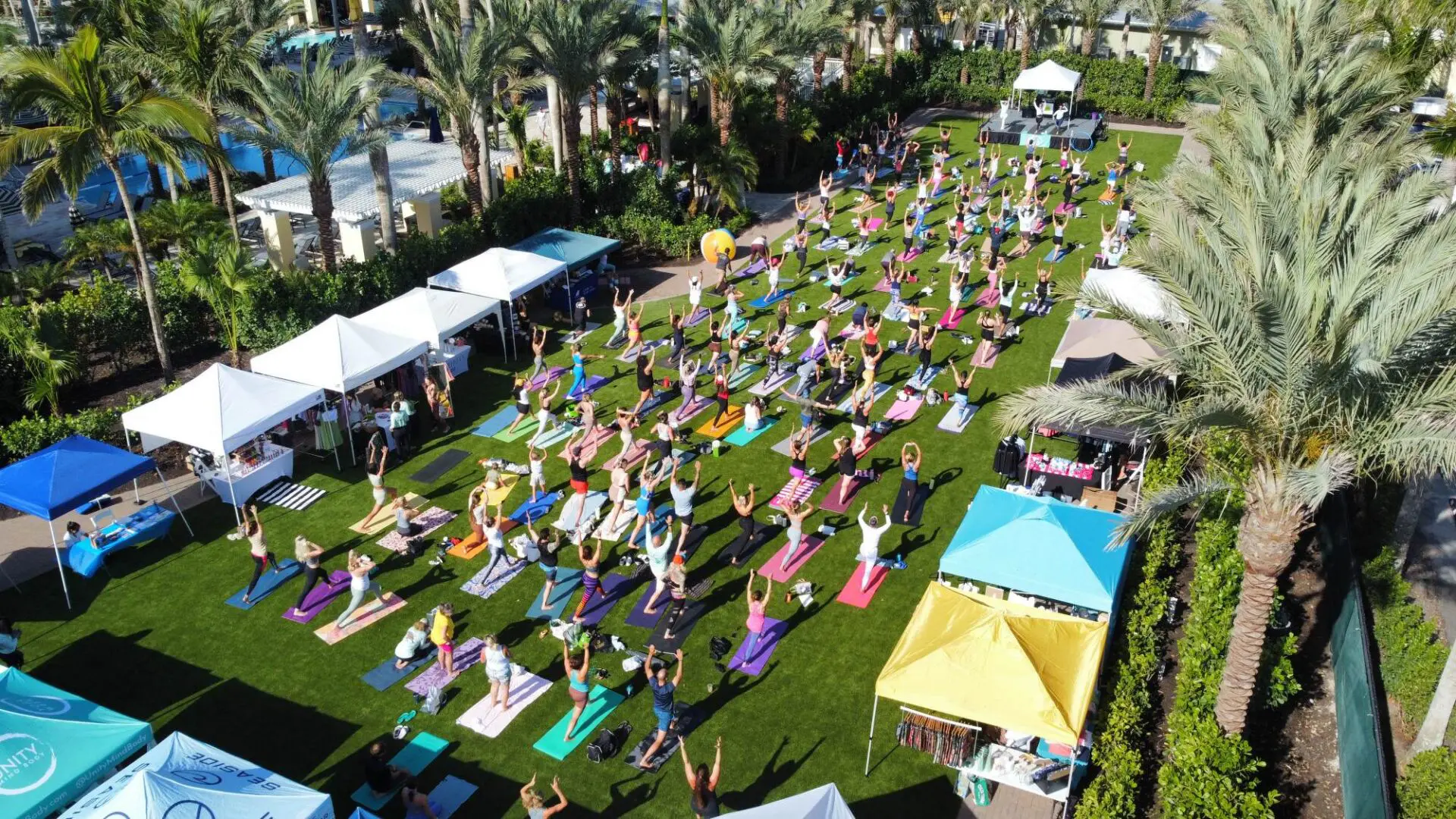 Discover Yoga Week, Unity's iconic event that unites individuals in a week-long celebration of well-being, community, and vitality. Since its inception in 2020, Yoga Week has been a cornerstone of Unity's mission to foster connection and holistic thriving among participants. Experience an unforgettable journey with an eclectic mix of dynamic yoga classes, expertly guided by certified instructors, catering to all levels. From invigorating beginner sessions to advanced practices, Yoga Week caters to diverse aspirations, whether it's cultivating strength, enhancing flexibility, or simply unwinding.
Each day of Yoga Week offers a chance to connect with kindred spirits from diverse walks of life, where unity is the driving force. As you flow through the days, forging bonds and supporting one another, the week crescendos into a spectacular Grand Finale. This celebratory apex allows participants to collectively honor achievements, contemplate growth, and fully embrace the community spirit nurtured throughout Yoga Week.
At the heart of Yoga Week is the intention to amplify mind-body coherence and cultivate genuine community ties. Engulf yourself in the transformative essence of yoga, not only nurturing physical vitality but also elevating mental and emotional well-being. As you conclude this week of growth and camaraderie, you'll emerge refreshed, revitalized, and deeply connected to both self and others.
Prepare for the next thrilling installment of Yoga Week, an event that seamlessly blends tradition with innovation. Stay tuned for the grand revelation of the upcoming Yoga Week – an opportunity to dive into a unique blend of experiences that transcend the ordinary and embrace the extraordinary. Join us as we create a tapestry of wellness, unity, and transformation. The anticipation is palpable. Next Yoga Week: TBD
what previous participants are saying
I attended Yoga Week in 2021 and it was my first experience with yoga and I fell in love with for the body, mind, and spiritual joys it brings me!
Courtney Gordon
I'm new to the area and don't have a home studio yet, or Florida yoga friends. Yoga Week was a perfect opportunity to try several studios, and styles of yoga, and make some connections in the yoga world. Not knowing what to expect, I limited myself to one class per day but I met several people who were taking 3 or 4 classes per day. I will definitely plan to take as many classes as possible next time around. It was such a wonderful experience!
Deanna Kohl
Yoga week SWFL is an amazing event. I have great fuel to be able to attend both years and can't wait for the next! There are so many wonderful people involved. I have truly enjoyed meeting new friends and trying out different genres of yoga and meeting new instructors.
Jen Perry
It was very organized and everybody was very friendly!!
Sandee Morison
Using yoga "to unite" us as a community is a goal! Our mission is to be a diverse, non-dogmatic yoga week filled full of classes and events that bring together the collected certified yoga teachers, students, studios, organizations, and companies. We wishes to promote yoga's health and wellness benefits to many while bringing together a sense of community. Let's come together to help bring more awareness to yoga and make the practice easily accessible!