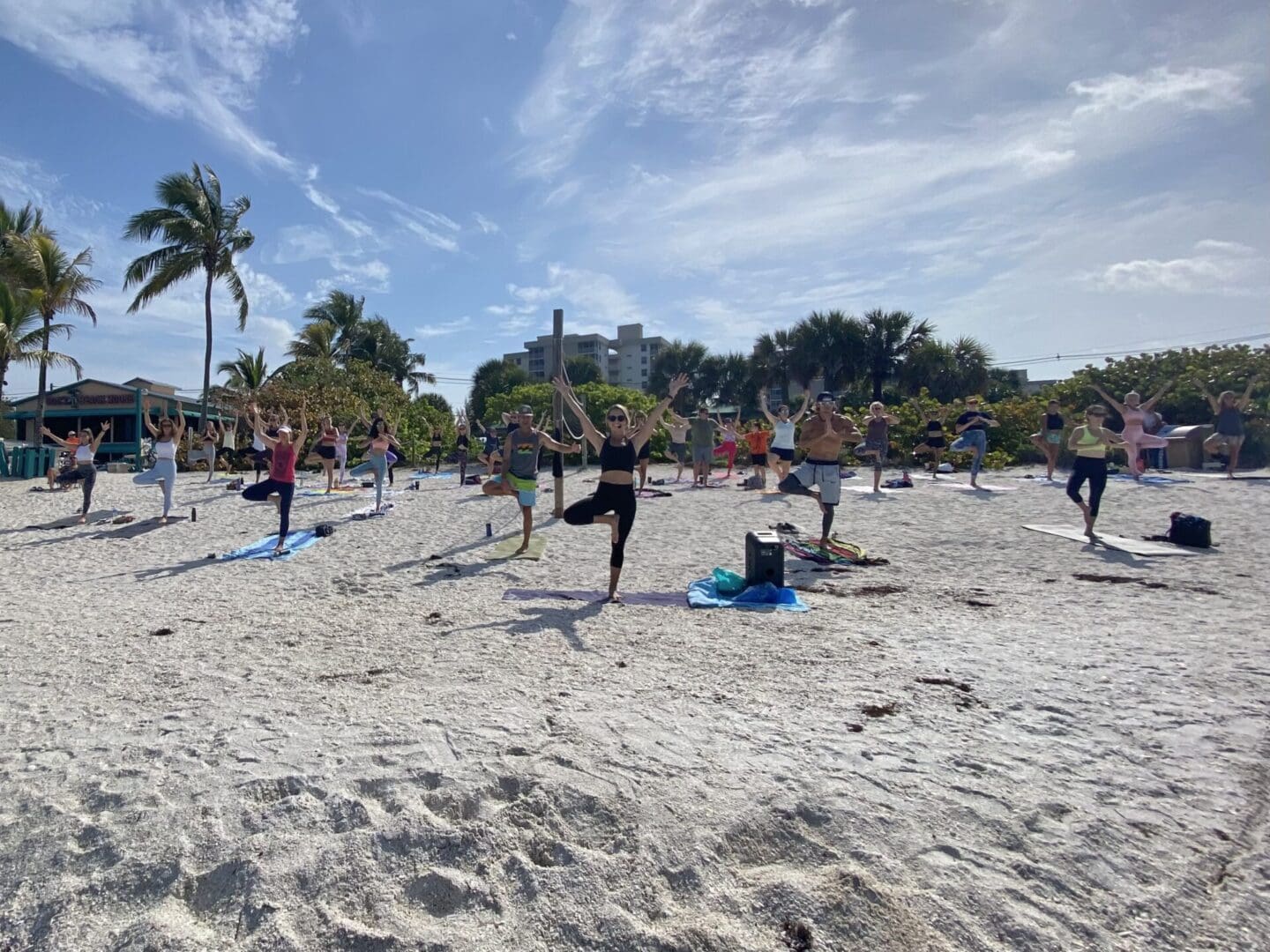 July 15 @ 8:30 am - 9:30 am
|
Recurring Event
(See all)
An event every week that begins at 8:30 am on Saturday, repeating until September 24, 2023
In this class you will move through beneficial postures to help align, strengthen and become more flexible in the body. Expect to transition from seated to standing poses. All levels are welcomed; as you make sure to modify in this class as necessary. Breath-work and meditation are also integrated to help gain relaxation and focus. Come connect with your mind, body and community!
When:
Saturday 8:30am-9:30am
Please make sure to arrive at least 10 minutes early to park, check in and set up
Where:
Bonita Beach
Bonita Beach Park
27954 Hickory Blvd.
Bonita Springs, FL 34134
Saturdays 8:30 am-9:30am, meet at Bonita Beach. Exact location will be determined as we go. Also, please note, that there are porta johns available but there are currently no bathrooms/showers available.
Please make sure to arrive at least 15-20 minutes early to park, check in, and set up. During season and around holidays the parking lot can fill up early in the day so please arrive early.
How to Register:
Create an account if you have not already, register here:
https://webtrac.leegov.com/wbwsc/webtrac.wsc/search.html?
 To go to Activity here:
https://webtrac.leegov.com/wbwsc/webtrac.wsc/search.html?display=detail&module=AR&_csrf_token=36603046b744653c11006b80ba238d98beeb1d49622b94a2c45afae96e7ff352
 Enter in Location: Bonita Beach Park & click Search
Scroll down to choose to register for all the classes for the month.
Need Extra help? Click here: Detailed Screen Registration Walkthrough
Call 239-533-1470 if you have any issues with registration.
Bring:
Towel or yoga mat, sunglasses, sun protection and water
Wear:
Comfortable attire that you can move freely in
Parking:
Parking is currently free at Bonita Beach Park. In the future, once the meters return it will be $2 per hour, with a credit card.
Lee County Parking Stickers are not accepted at this park.
Class Cost:
$15 per class
**You must have an account with Lee County Parks & Recreation to sign up online. You can also sign up in-person at any Recreation Center in Lee County. To Drop-in for the day, please call 239-533-1470 or visit any Recreation Center in Lee County the day of.
Age:
12+ must always be accompanied by an adult if under 18 years old
Weather:
If class is cancelled due to weather; you will get an email notifying you by 7:30am the morning of class and a refund will be issued.
All participants will be required to sign a physical waiver at their first session of yoga.